Edwardian [1963]
Subject
High School Yearbook--Texas--Austin
St. Edward's High School (Austin, Tex.)
St. Edward's High School--Students--Yearbooks
St. Edward's High School--Periodicals
Publisher
Henington Publishing Company
Rights
Copyright St. Edward's University. The materials in this collection are made available for use in research, teaching and private study. Images and text may not be used for any commercial purposes without prior permission from St. Edward's University.
Identifier
Edwardian1963_OCR.pdf
Files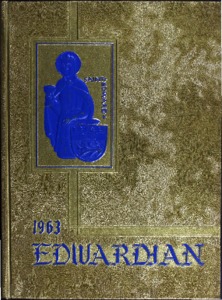 Collection
Citation
Edwardian Staff, "Edwardian [1963],"
St. Edward's University Digital Collections
, accessed October 19, 2018,
http://archives.stedwards.edu/digitalcollections/items/show/521
.
Social Bookmarking